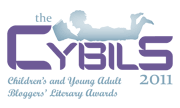 This is a long awaited week in the KidLit world. The short lists for the Cybils have finally been announced.
For months now, long, long lists of books have been in the hands of the first round panelists. They have worked tirelessly to narrow these sometimes unimaginably long lists (the fiction picture book category exceeded 200 nominated books) down to five books per category.
Now the second round judges, including myself, get to work.
If you are looking for wonderful titles to bring joy and warmth to these frigid post holiday days, do click here and you won't be disappointed.
Happy Reading!