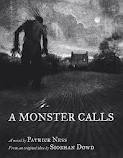 A Monster Calls by Patrick Ness is a must read.
Kirkus Review writes of a Monster Calls,
A nuanced tale that draws on elements of classic horror stories to delve into the terrifying terrain of loss. . . . Ness brilliantly captures Conor's horrifying emotional ride as his mother's inevitable death approaches. In an ideal pairing of text and illustration, the novel is liberally laced with Kay's evocatively textured pen-and-ink artwork, which surrounds the text, softly caressing it in quiet moments and in others rushing toward the viewer with a nightmarish intensity. A poignant tribute to the life and talent of Siobhan Dowd and an astonishing exploration of fear.
It has been positively reviewed here in the New York Times and here in the Telegraph.
It has received multiple awards: Publishers Weekly Best Children's Books 2011, Fiction; SLJ Best Books of 2011, Fiction; The New York Times Notable Children's Books of 2011, Young Adult.
Many book bloggers, including  Meg Medina (who I owe a public thank you for the nomination she sent my way for a Liebster award) declared a Monster Calls her favorite book of the year.
And I too loved it. I can't stop thinking about the haunting tale. I also can't help wondering if it is indeed a book for children. The story is so dark and so incredibly sad. Is it so because of the life baggage that I bring to it? Would children be equally disturbed?
As we approach award season, I am eager to hear more and more about A Monster Calls. I do know it should win awards.  I'm just not sure if it should be winning awards for children's literature or for adult fiction.