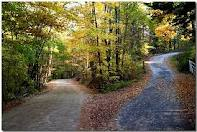 I love it when life itself teaches you a lesson.
I typically run the same route every morning. And I almost always see the same man walking his terrier. I always wave and say hello despite getting very little to no response in return. The other day, I had had it with my usual run. I was tired of seeing the same houses, same people, same landmarks. I was feeling off and knew that without some new distractions the rest of my run would not be fun.
So I turned right where I usually go straight. And as I rounded the corner of this new street, I saw the man with his terrier. Before I could even say hello, he looked me in the eye and happily said, "A different route today? " as if we were the best of friends who chatted all the time.
A new route and a new attitude. May I always remember the benefits of straying from the path every now and then…