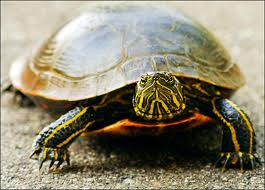 For a week or so, posting to my blog has been painfully, turtly slow. I thought it was my computer so I've been trying to tweak things that might be troublesome. Then last night, Rob told me he hasn't read my blog in awhile because it was just too slow.
What!?
Here I am, finally writing regularly again, begininng to get comments again. And even my husband has just stopped reading!!
I now have an e-mail out to Warren, my fearless and wonderful tech guy. He is on it and I should be up and running again (like the hare, not the tortoise this time) in no time.
While your waiting (with bated breath!), check out Warren's blog. He and his wife Betsy sold all their earthly possessions (except their computers obviously) and are traveling the world. Seriously.