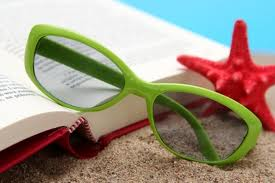 I have vivid memories of my summer reading lists as a kid. The only thing I might have loved more than a summer reading list was the list of school supplies that Mom and I would bring to Ann and Hope each fall but that would be up for the debate. Summer reading lists were just great. I would fill blank books full of the titles I read each summer, checking off the long list of required and suggested books given to me at school until each title had been read.
The other day, I had a great idea. I am going to make my own summer reading list. I don't think the fun should only be for the young. Why not me too. And I might just fill a blank book with titles and cross them off on a list.
Now, I need your help. Please comment with titles you have really enjoyed recently. I'm looking for those just right books- not total trash but nothing too hard. I can't wait to start listing so comment, comment, comment. And if you're not a commenter, send me an e-mail…
p.s. My blog is undergoing some upgrades so please ignore the construction and check back soon for some great improvements!