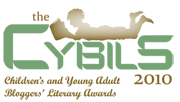 So… for those of you who are in to tv, imagine being asked to sit on the panel for the Emmy's? If you like movies, suppose  you got to choose this year's Oscar winners? Well, welcome to my excitement! Since the Cybils began in 2006, I have been following the nominations and the winners closely. The Cybils,  you see, are a children's literacy consultant's Oscar and Emmy combined. Yearly, children's literacy bloggers come together in an official way to select the best books of the year in various categories.
I had been reading the requirements for judging for a few weeks trying to decide if I wanted to take the leap. Finally, I wrote an e-mail with a link to this blog, crossed my fingers and hit send. Over the weekend, I received an e-mail that I will serve as one of the panelist for the Easy Reader/Easy Chapter Book category.
To learn more about the Cybils and my fellow panelists check out the information below taken from the Cybils website.
The 2010 Easy Readers/Early Chapter Books Panel
We're excited to introduce the slate of hardworking literacy advocates, teachers, parents and book enthuasiasts–bloggers all, of course–in charge of winnowing down the nominations for our Easy Readers and Early Chapter Books category. For those who need a reminder, Easy Readers are those 6″x9″ books designed specifically for children learning to read.
Panel Organizer: Anastasia Suen, 5 Great Books, Weekend Reads
Panelists (Round I Judges):
Jeff Barger, NC Teacher Stuff
Terry Doherty, Children's Literacy/Reading Tub
Julie Jurgens, Hi Miss Julie!
Cynthia Lord, Cynthia Lord
Stacey Loscalzo, Stacey Loscalzo
Anastasia Suen (see category organizer)
Melissa Taylor, Imagination Soup
Judges (Round II):
Jeremy Brunaccioni, Picture Book Review, Share What You're Reading
Eric Carpenter, What We Read and What We Think
Sharon Hrycewicz, Reading Chick
Susan Kusel, Wizards Wireless
Lisa Von Drasek, EarlyWord Kids